Cardi B Made An OnlyFans Account To Share Real Life Content And More
August 13, 2020 6:15AM PDT
It's official, Cardi B is on OnlyFans.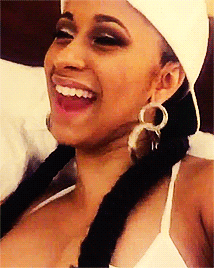 She made the announcement on her Instagram account yesterday with a video talking about the kind of content she'll be posting.
To make things clear, Cardi said that she WON'T be posting any X-rated or explicit content (OnlyFans is kind of known for that stuff) so get your mind out of the gutter! From a press release, she said she'll be using the platform to, "address ongoing rumors, share glimpses into her personal life, connect closer with her fans, and much more."
She mentioned that fans who subscribe to her OnlyFans account will be able to gain access to things such as, behind-the-scenes clips from her new "WAP" music video with Megan Thee Stallion and never before seen footage from magazine spreads.
If you'd like to subscribe to her OnlyFans page, it's going to cost $4.99 a month and you can learn more about it here.
This girl really knows how to bring in that dough.
You go Cardi!
More about:
---