Cardi B Says She and Offset are "Working Things Out"
January 31, 2019 8:48AM PST
Okurr, looks like Cardi B and the rest of her family are getting back together again.
According to a report from TMZ.com, Cardi B and Offset are not only together again, but the two are also planning to move back in together at their home in Atlanta with their daughter, Kulture.
The two split for two months back in 2018 after she accused Offset of cheating.
This time around, Offset promised to not cheat on Cardi anymore, with a new "no groupies rule."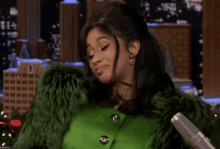 Hopefully these two work out at their second run of their relationship. Being cheated on sucks.
More about:
---