WATCH! New Trailer For Disney+'s "Lady and the Tramp"
October 15, 2019 6:37AM PDT
With Disney+ launching in less than a month, the streaming service has been planning to release a bunch of new films and shows, including a live-action Lady and the Tramp remake.
This new second trailer shows Tramp's life before meeting Lady and the two embark on adventure together. You can even see this iconic scene re-created in the trailer: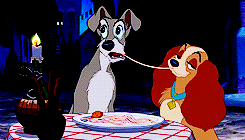 Some of the voices you'll hear in the film will be from Tessa Thompson as Lady, Justin Theroux as Tramp, Janelle Monae will be lending her voice to Peg and Sam Elliot will voice Trusty.
A few of the dogs used in the movie were actually rescue animals who later became adopted after making the movie.
We do love the original version of the film, but this is something we might have to check out.
This live-action remake of Lady and the Tramp will be streaming on Disney+ on its launch date on November 12!
Do you think Disney should continue to create live-action remakes? What Disney movie would you want to see made into a live-action film, if any?
More about:
---