WATCH! Official Trailer for "Toy Story 4"
March 19, 2019 6:00AM PDT
Woody, Buzz and all your other favorite toys from Toy Story are back!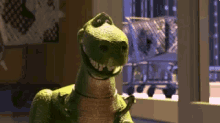 Disney and Pixar dropped a brand new trailer for Toy Story 4.
As you know in the third movie, *SPOILER ALERT*, Andy gifted his toys to Bonnie.
Now, the toys are back in action and have to take on a new challenge of helping a new toy named Forky navigate his life and make his way back to Bonnie.
Woody even reunites with Bo Peep in the film!
The trailer is making us super emotional and so is the quote attached to the movie,
"On the road of life there are old friends, new friends, and stories that change you."
Toy Story 4 will feature voices from Tim Allen, Joan Cusack, Tony Hale, Keanu Reeves and many more!
https://twitter.com/MyMix106/status/1107995131238473730
You can check out the trailer for the movie above!
The film will hit theaters on June 21st, 2019!
More about:
---